Staircase AI is pioneering Customer Analytics and Relationship Intelligence. Our platform leverages AI to analyze millions of customer communications such as emails, calls, tickets, and more, and turn them into churn risks and growth opportunities signals, that are impossible to spot with the naked eye. Imagine you could cut through the noise, and reveal deep human signals around your customers' health, sentiment, journey events, risks, and opportunities (to improve NRR and reduce churn).
Real time visibility into churn risks and opportunities
How well do you know your customers' status, right now?
Leverage Staircase AI's technology to unlock your customers' real status, in real time, and uncover churn risks and growth opportunities right on spot.
Leverage AI to discover your accounts' true health score
Who is at risk now? Who is likely to expand? Stop questioning the team and use AI to uncover live sentiment, engagement and health.
Staircase AI generates unbiased scores, without asking for any feedback, by analyzing customers' ongoing interaction (or lack of…).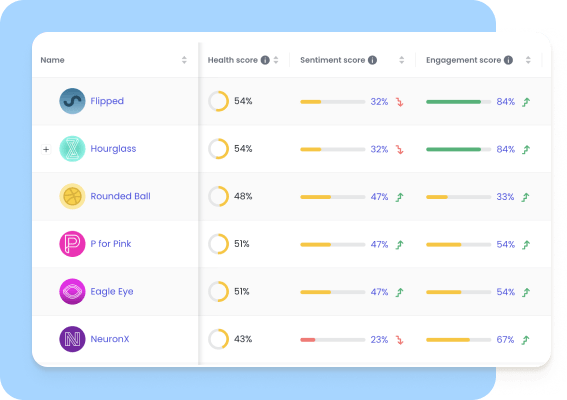 Be on top of your Stakeholder KPIs, automagically.
Enable your team's relationship building by using Staircase AI's stakeholder KPIs management.
Our platform alerts on stakeholder changes or KPIs missed and generates an automated relationship heatmap.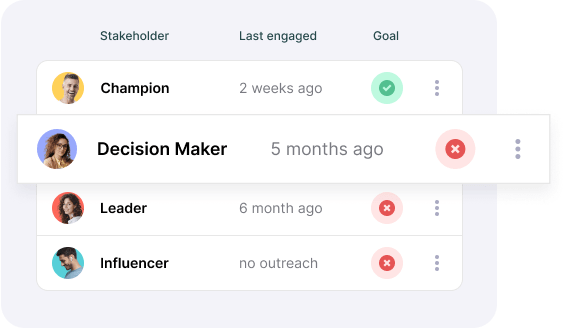 Trusted by Global CS teams who use Staircase AI to gain human insights from customer interactions